Reasons To Wear Flat Shoes During Your Wedding Celebrations
If you're on Twitter and following @AfterPartyPumps, then you will see a plethora of different styles, colours and offers we sell to match every wedding and hen party outfit because there are many occasions why you want to avoid wearing high heels.
It got us thinking, why are high heels so strongly associated with the catwalk, celebrity fashion and glamour?
Of course as the UK's favourite dedicated online store for foldable shoes in a bag we wrote down a few thoughts on this compiled a list as to why we think our Wedding range of white (and coloured) are the perfect bridal shoes of choice.
Hen Party Occasions Before The Wedding Day
In a single word – Comfort. Being free from that awful feeling of pinched toes and calf pain is paramount to all hen party atendees when it comes to comfortable shoes. Read about our wholesale savings for bridal / hen party bulk buys.
There's nothing more agonising than walking for miles from club to pub around with that heel burning feeling on the toes or heel of your feet. A pair of well made flat shoes would resolve all of this leaving you to enjoy your time with your hens and still feeling beautiful.
Wedding Dress Fittings Are A Breeze
Think of your outfit from top to toe – buy white wedding flat shoes as soon as you have started to plan your wedding dress fitting. Pack them to all of your fittings and you'll find it's a breeze to change shoes and slip on those comfortable flatties every time.
Wedding Day Flat Shoes
People generally wear high heels to lengthen the legs and make them look thinner and most wedding dresses/outfits are floor length anyway, so you can discount the bit about thinner legs.
Consider the thought of having the wedding ceremony, the celebratory wedding breakfast and then on to the evening reception party – having a quick pool around the office estimated that brides (and grooms of course) can be on their feet for up to 14 hours. If you do choose high heels you may have bought them new and we all know the issues that wearing one pair of new shoes can bring – so pack a pair of fold up shoes and party the night away.
Avoid Trips and Falls with Flat Ballet Pumps
Stay safe walking down the aisle and around the dining areas in view of your guests, avoid tripping on carpets and taking a tumble – there will be multiple guests recording and photographic the newlyweds so stay ahead of the game with your safe and secure ballet pumps.
Even if you are wearing heels we don't want to scare you, it's probably not going to happen that you trip but if you're wearing flats, it's *super* unlikely to ever happen. Remember that being on your feet all day usually leads to swollen feet so take good care of your feet, especially if you are heading away for your honeymoon the next day for example.
Foldable Shoes In A Matching Bag Are Discrete
You'll be on your feet for more hours than a shift in retail so buy your fold up shoes in a bag in advance and wear them for an hour or 2 around the house to ensure the perfect fit. Ensure you have good posture and comfy in flats, storing them in your handbag will be easy as they don't take up too much room amongst your makeup and mobile phone. Stay pain free so any tears on the big day will be of happinness and not foot pain.
Happy Brides and Not Bridezilla
You can do a quick straw poll with your hens / bridesmaids and chat about how many times you have walked to the taxi rank barefoot simply because you couldn't take another step in your high heels. Then you can all giggle about the different times and occasions you're moaned about the new shoe pain, or when you cut your foot on glass.
We hope we have convinced you of the many big reasons why buying foldable shoes in advance of you wedding – or any day that involves being on your feet for many hours – now you can shop online and benefit from FREE UK shipping on all fold up shoes!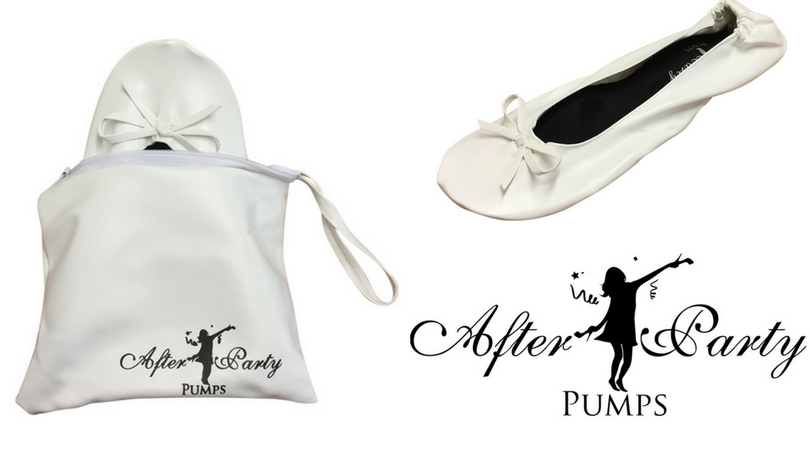 Comments are closed