Get The Look with London Fashion Week 2018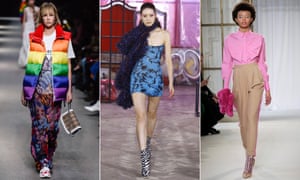 1 Rainbow is the new woke dress code
With the red carpet blackout sweeping the board at the Baftas as well as the Golden Globes, the colour you wear is now a political statement. The only combination more woke than black? The rainbow.
For his final Burberry show, Christopher Bailey adopted rainbow stripes, a symbol of LGBT pride, as the new check. Edie Campbell wore a rainbow gilet, Cara Delevingne a rainbow fake-fur coat, Adwoa Aboah rainbow stripes on a floorlength white skirt. There were sweeping sequinned rainbow sunsets on elegant silk dresses at JW Anderson and diagonal rainbow stripes at Fyodor Golan.
If you had the foresight to splurge your rent money on the rainbow-striped Gucci sweater two winters ago, that is looking like an extremely wise investment. The rest of us need to keep our fingers crossed that Gap reissues those rainbow-striped Happy sweaters sharpish.
2 Hemlines are staying close to the ground
We can continue wearing skirts that require minimum leg maintenance and look nice with flat or low-heeled shoes.
I have spent the past 10 days watching catwalk shows in London and New York and I have seen about five pairs of legs in all that time. Skirts and dresses end somewhere between below the knee and ankle.
The update you need to know, however, is that the pleated skirt is no longer where it's at. Instead, we will be wearing long pencil skirts. At Christopher Kane, they came with long rows of buttons; at Rejina Pyo, these were sometimes wrapped at the waist for a softer shape. This season's most vogueish way to flash skin is a sliver or diamond cutout at the small of the back in a dress with a long, swishy skirt, as seen at Erdem and Roland Mouret. Very sexy, very elegant and not too chilly.
3 London is keen on green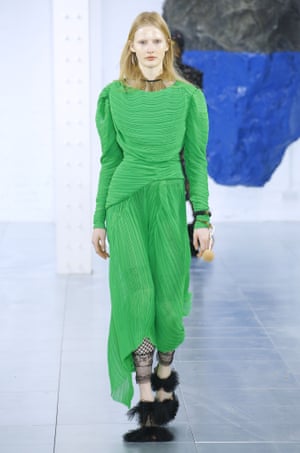 The Duchess of Cambridge didn't wear black to the Baftas, but at least her dark, forest-green dress was in one of fashion week's favourite colours. Green is to next season what lilac is to this one: the novelty-hit shade you can helicopter into your wardrobe to signal your fashionability immediately.
At Preen, there was a deliciously ruched cocktail dress in a lurid green-juice shade. Erdem went with deepest olive velvet and slippery chartreuse silk.
Molly Goddard went with bright astroturf, while Delpozo's polka dots – footnote: polka dots are still a thing – were green on cream. The extra challenge for fashion's top set this term is to make green with pink work as well as it did at Rejina Pyo.
4 A skirt and a blouse is no longer boring
I know what you're thinking. A skirt and a blouse is for squares and kids in school uniform. People like us wear long skirts with chunky sweaters or crisp shirts with interestingly hemmed jeans. This is all about to change. A skirt with a blouse is the new alpha look. The key is not to be too neat or prim. If the uniform prefects would approve, you are doing it all wrong.
Halpern gave us the week's most fabulous party dresses and most of them were worn not with sandals or courts, but with boots. A snazzy ankle boot – with a zebra stripe, or in Dulux gloss white, or with a lethally sharp point – is your easy-update secret weapon. It works with long skirts (a flash of calf is appealing and a good transseasonal way to experiment with bare skin without going into shock) and looks great with side trousers.
5 High-tide trousers
Your trousers should start higher than before – right up on the waist and belted – and end higher than before, at just above the ankle bone. This doesn't sound elegant, but look at Delpozo, where the beautiful camel trousers worn with a sweet-pink blouse made a great case for this look. At Roksanda, cropped duck-egg-blue straight-leg trousers were worn with a matching jacket for a chic, grownup day look; at Margaret Howell, stiff schoolboy shapes were belted and worn with white socks to accentuate the ankle gap; at Emilia Wickstead, wide-cropped trousers made for a strong cocktail-party look; and, at Richard Malone, frayed red trousers were lopped off above striped boots. In other words, this silhouette can do uptown or downtown, grownup or cute.
6 The day-gown is the new ballgown
Floorlength for day is a thing. Seriously. This started last summer, with loose, all-over-coverage floral kaftan-dresses that made those dinky sundresses you have worn for years look – well, kind of basic, to be honest. Now that the kind of formal dress code that requires a floorlength dress has all but disappeared from most of our lives, the floorlength dress has reinvented itself as a comfy, easy piece to throw on with flat shoes. At Jasper Conran, a sweeping pebble-grey dress was worn with matching trainers. After last season's pyjama-style dressing, nightie-gowns are having a moment: think white cheesecloth and full sleeves. Wear with unbrushed hair; no diamonds required.
7 The trench is the new hoodie
With all the buzz around Burberry, 2018 was always going to be the year of the trench. Trenchcoats and trench styling were all around this week. But the old trench tropes – a belt neatly tied in a bow, a popped collar framing perfect makeup, a silk blouse and a heel – have been jettisoned in favour of a slouchier look. At Burberry, the trench came over an orange tracksuit; at Christopher Kane, it had a saucy black leather trim; at Simone Rocha, it was scarlet and lopped off at the shoulders. In other words, the trench is your new off-duty layer.
Read the original source article here.
Sale Now On – Free UK Shipping on all Fold Up Shoes
Every month we highlight a selection of our exclusive shoes in a bag at a discounted price. Grab a bargain from just £5.95 with FREE UK shipping!
Have a browse now and shop your favourite style.
This month's featured stock item: Classic white fold up shoes with matching white bag just £6.95. Perfect for weddings and bridal parties!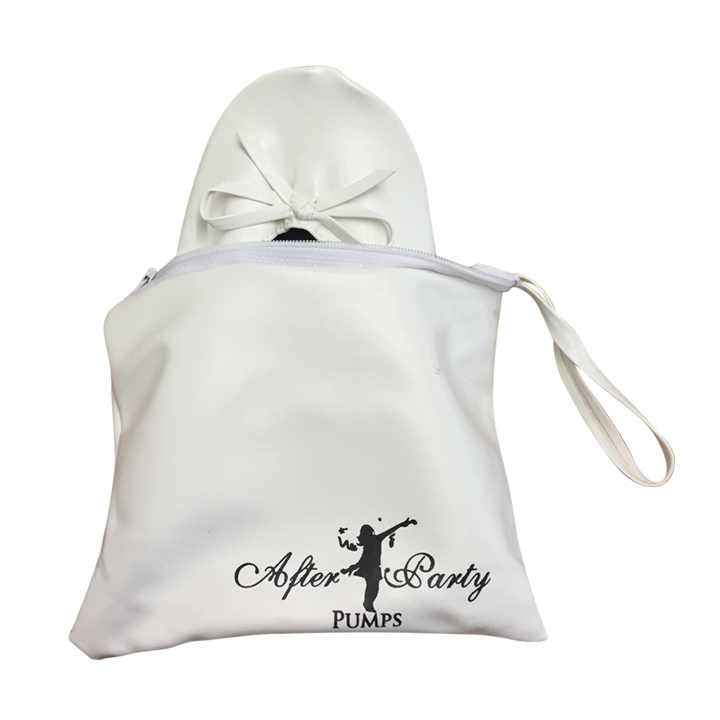 Comments are closed