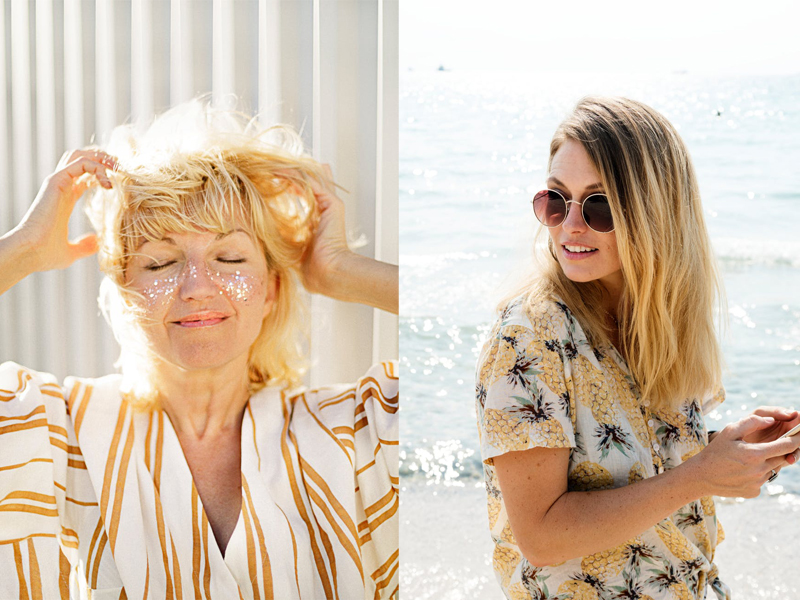 The Summer in the UK has never felt hotter than it has this year! We're talking temperatures of nearly 30 degrees, Football Nearly Coming Home, and Love Island dramas.  And quite honestly – we don't really know what to do with ourselves. The novelty of being able to make plans for a weekend BBQ and not having to reschedule still hasn't worn off, despite nearly 5 weeks of constant sunshine.
However the biggest struggle, is how do we still look good in nearly 30 degree heat? We don't know how the gorgeous girls on Love Island manage it! You spend ages on your hair and makeup, then step outside and the humidity hits in. Your hair starts frizzing and your makeup feels like it's melting off your face. Don't panic – we've got some style tips to keep you looking hot all Summer long.
1. Hair Up
If there was ever a time to start playing around with some cool up-dos, then now is the time! Keeping your hair off your face will make you feel instantly cooler. We love this plait around hairstyle from Megs at Wonderful You. Watch her Instagram tutorial and learn how to do this mega easy style.
2. Glitter Up
Going to a festival, party, or on holiday? Don't worry too much about heavy makeup, foundation or concealer – glitter UP. Glitter covers a multitude of sins, and we say the more the merrier. Face gems, booty gems, body glitter, glitter in your hair – the rule is more is more.
3. Be Prepared
There's nothing worse than after a sweaty night out, dancing in a cool Ibiza club than getting blisters on your feet and having to walk home barefoot. We've all been there! Be prepared and pop a pair of our fold-up shoes in your handbag, After Party Pumps come in a small pouch which will fit in most handbag sizes – even a clutch!
4. Size Is Important
Obviously, we're talking about sunglasses! When it comes to finding your perfect pair of sunnies this Summer, go big or go home. That way you can forget all about the heavy eye make-up in the heat, and look stylish at the same time.
Want to find the perfect pair of After Party Pumps for your Summer? Whether you want to go ultra glitz and try our sequin shoes, or try a bright pop of colour – we have a pair to suit every occasion.
Comments are closed